Belangrike feite oor kanker
Kankerselle is gewone selle wat verkeerd begin verdeel. Die selle verdeel dikwels vinniger as die normale selle en kan nie die funksie verrig wat normale selle kan nie. Die selle wat onfunksioneel is, vul dan die plek van die normale selle.

Kankerselle kan versprei. Die woord 'maligne' beteken kwaadaardig en dat die selle kan versprei ek skadelik wees. As 'n gewas nie kan versprei nie, word dit 'benigne' genoem wat goedaardig beteken. Maar selfs goedaardige gewasse kan ook lewensgevaarlik wees, soos bv meningioom (selle van die breinvlies wat vinnig verdeel en groei) wat later druk op normale breinweefsel. Kankerselle kan baie slinks wees: In sommige gevalle soos melanoom en borskanker, kan die kankerselle so lank as 10 jaar in die lang skeletbene gaan skuil en dormant lê, en dan weer later aangeskakel word en verder versprei.
Kanker is in aan die toeneem in die wêreld. In 1970 was 3 miljoen nuwe gevalle per jaar gediagnoseer; in 2018 is meer as 17 miljoen nuwe gevalle gediagnoseer. Na raming sal die getalle verder toeneem. In Engeland is reeds een uit elke twee siektes wat gediagnoseer word, kanker. Die redes vir die toename is die ouerwordende bevolking, meer stress, minder kinders per vrou, rook (sigaret rook en na verwagting ook vaping) meer besoedeling, meer oorgewig, minder oefening, swak eetgewoontes.
Kankerselle kan begin groei weens genetiese faktore (familiegeskiedenis van kanker bv. Borskanker en kolonkanker, asook 'n skielike mutasie in die DNA (melanoom, ander velkankers, longkanker) en van die groeiprosesse word aangeskakel deur omgewingsfaktore.
Die omgewingsfaktore wat 'n proses kan aanskakel om 'n genetiese fout/mutasie in die selle se DNS te veroorsaak, is rook, sonblootstelling, besoedeling en vetsug en onaktiwiteit.
Rook van sigarette: sowat 21% van alle kankersterftes is die gevolg van sigaretrook. Vaping veroorsaak ook kanker.
Sonblootstelling kan insluit sonblootstelling oor jare, of selfs 'n enkele erge sonbrand. Sonbeddens en sonlampe verhoog jou risiko vir melanoom of een van die ander velkankers met 75%.
Besoedeling sluit in die inaseming van brandstofdampe.
Vetsug: 10% van alle kankers hou verband met oorgewig.
Die kos wat die meeste verbind word met kanker, is te veel rooivleis. Terwyl tamaties weer bewys is as 'n kankerwerende kossoort teen prostaatkanker.
Jy kan jou risiko vir kanker met een-derde verminder as jy aktief is en 3 1/2 uur per week oefen (dus 30 min per dag, 6 tot 7 dae van die week) en 'n gesonde eetplan, met min of geen alkohol, min sout (nie meer as 3 g per dag nie), en 'n normale bloeddruk.
Alle kankers is nie dieselfde nie. Kankerselle wat in die lewer begin is anders as kankerselle wat in die longe begin ens.
Sommige kankersoorte groei vinnig (lewer, pankreas, maag, long) terwyl sommige stadig vorder (chroniese miëloïede leukemie of CML).
Elke kanker het sy eie verspreidingspatroon: Borskanker versprei na die been, longe, lewer en brein. Prostaatkanker na die been. Sarkoom na die longe en lewer. Melanoom na die been. Nierkanker deur die bloed gewoonlik eerste na die longe.
Die diagnosering van kanker het baie vooruitgegaan en baie meer gevalle word nou vroëer gediagnoseer. Meer gevalle word ook gediagnoseer danksy groter bewustheid van kanker.
Hoewel die aantal kankergevalle aan die toeneem is, het die suksesverhale ná behandeling ook toegeneem en word al meer mense 'genees' van kanker (genees beteken jy is 5 jaar of langer kankervry of in remissie).
Die behandeling het op alle gebiede vooruitgegaan: bestralingsbehandeling word nou akkurater gemik met minder skade aan die omliggende weefsel. Die sukses om 'n gewas met bestraling te laat krimp is veral met gamma-bestraling nou beter as voorheen. Voorts het die ontwikkeling van nuwe middels daartoe gelei dat baie kankersoorte nou meer doeltreffend behandel kan word. Lees en luister meer oor die nuutste middels in kankerbehandeling: https://www.rsgplus.org/aktueel/wetenswaardig/wat-is-immunoterapie/
Voorkoming of verlaging van jou eie risiko vir kanker deur gesonde leefwyse (nie rook nie, min alkohol, nie oorgewig nie, gesonde eetgewoontes met baie vars groente en vrugte en nie oormatig baie rooivleis nie, en gereelde oefening) en vroeë diagnosering is baie belangrik.
Let ook op die eerste en vroëe waarskuwingstekens van kanker.

https://www.webmd.com/cancer/cancer-early-warning-signs#1
https://www.health24.com/Medical/Cancer/Triggers-and-prevention/7-dangers-signs-of-cancer-20150514
Lees meer oor kanker, die diagnose en behandeling:
https://www.cancer.gov/about-cancer/understanding/what-is-cancer
Agtergrond-inligting oor Kanker
 OPINION PIECE by Prof Vikash Sewram, Director of the African Cancer Institute at the Faculty of Medicine and Health Sciences, Stellenbosch University
 THE CANCER CONUNDRUM
From the human mummies of ancient Egypt to brink of the 5th industrial revolution
Cancer, from its first documented evidence ~3000 BC to what we would consider the brink of the 5th industrial revolution, remains a formidable adversary that afflicts all communities without discrimination or boundaries. Its burden impinges on the lives of tens of millions annually, making it a major and increasing public health problem worldwide. The word 'cancer' invokes deep fear as a silent killer, with many viewing this disease as a symbol of grief and pain, a plague straining our intellectual and emotional resources. But our resilience and need to survive is a reflection of our human tenacity and an unwavering spirit to conquer the odds. It is this tenacity to continue the fight against cancer that has led to remarkable strides in better understanding the causes of the disease, the complexities regarding its biology, methods for prevention, screening, diagnosis and advances in cancer treatment.
The global cancer burden is estimated to have risen to 18.1 million new cases and 9.6 million deaths in 2018. One in five men and one in six women worldwide develop cancer during their lifetime, and one in eight men and one in 11 women die from the disease. Unless greater efforts are made to alter the course of the disease, this number is expected to rise to close to 30 million new cases by 2040.
With South Africa's growing population of approximately 57 million and an ageing population, the local caseload is expected to double by 2040 as well. Cancer remains the the sixth main cause of death in South Africa and the latest data from the National Cancer Registry reveals that in 2014, close to 75 000 new cases were diagnosed. Cancers of the breast, cervix and prostate continue to dominate with a similar profile extending into Africa.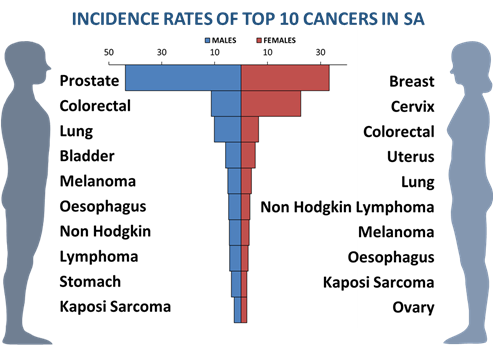 Cancer risk identification and prevention, along with advancements in early cancer detection and treatment, are emerging as critical national health issues that need to be addressed appropriately in order to improve the quality of life and life expectancy of South Africans. There is no 'one' solution to the country's cancer problem. Decades of research and medical ingenuity have improved and extended the lives of many cancer patients, but despite these advances, a combined effort between the public and private sectors, academia, advocacy groups and patients is required to beat this complex disease.
World Cancer Day, spearheaded by the Union for International Cancer Control (UICC), takes place every year on 4 February and is the uniting global initiative under which the world comes together to raise the profile of cancer in a positive and inspiring way.
There is an urgent need to increase early-stage cancer detection, screening and diagnosis to significantly improve cancer patients' chances of survival and quality of life. Universally, the majority of cancers are amenable to early detection. When a cancer is detected at an early stage – and when coupled with appropriate treatment – the chance of survival beyond five years is dramatically higher than when detected at a later stage when the tumour has spread, and the disease is more advanced. Furthermore, early diagnosis can also reduce the cost of treatment. Despite this, millions of cancer cases are found late, leading to expensive and complex treatment options, diminished quality of life, and avoidable deaths.
Cancer has a significant health impact on the South African population and as we commemorate World Cancer Day, we ought to reflect, acknowledge and recognise that the continued battle against cancer is not a singular effort, and that a unified response is mandatory to ensure a path to victory. Everyone can play a role in ensuring global success. 2019 will be the first year of the new three-year campaign by the UICC, 'I Am and I Will'. The new theme is an empowering call for personal commitment and represents the power of our actions taken now to reduce the growing impact of cancer.
Globally, barriers exist at the individual, health system and government level that prevent millions of people all over the world from receiving an early diagnosis and better treatment. There are huge disparities in health resources (infrastructure, human resources, access to treatment, etc.) that make populations in Africa, including South Africa, extremely vulnerable to developing and treating cancer.
South Africa is a country in transition, and as more people improve their social and economic circumstances and adopt a Western lifestyle, characterised by an unhealthy diet and physical inactivity, we are likely to experience a reduction in infection-based cancers, with a concomitant increase in cancers more prevalent in developed countries. This points to an increase in the incidence of breast, colorectal and prostate cancer, a worrying prospect, since breast and prostate cancers are already ranked among the primary female and male cancers.
Encouragement and support of spouses and family members are key to minimising individual-level barriers related to early detection, screening, and diagnosis. Feelings of shame and fear, combined with poor health awareness and cultural beliefs, can also keep an individual from utilising medical care or screening programmes. Prevention efforts linked to early detection and diagnosis are likely to offer improved prognosis and better outcomes. Prevention also offers the most cost‐effective long‐term strategy for the control of cancer. This goal is being viewed as more realistic, socially responsive and financially sound when compared to the aggressive therapeutic options of chemotherapy, surgery and radiation.
Health system-related barriers such as increased awareness among health care workers to detect cancer early, especially at the primary care level, and lack of an efficient and timely referral for testing and diagnosis lead to needless delays in treatment.
Despite some of these setbacks, the South African National Department of Health must be congratulated on their efforts to place cancer on the National Health agenda. Drafting of the National Cancer Strategic Framework for South Africa and the finalisation of the Breast and Cervical Cancer Policies bear testimony to the strides that National Government has taken. However continued efforts in strengthening the capacity of the health sector, improving access to treatments and supportive services remain core to curbing the rising epidemic of cancer.
World Cancer Day: It's time to save a life
Take control of your future and your health
World Cancer Day shines a spotlight on a disease that can change your life forever. A disease that now, according to Cancer Research UK, will be diagnosed in one out of every two people. According to Doctor Lee-Ann Jones, clinical and radiation oncologist at Cancercare, World Cancer Day is an opportunity make fundamental changes that can save your life and your future. From ongoing self-assessment to a shift in diet and lifestyle, there are steps that anyone can take to drastically minimise their risk of being diagnosed with cancer.
"Cancer is a serious, life-threatening illness but you can manage your risk," she explains. "Regular screenings and self-examinations are critical to ensuring that cancer is detected early. When detected early, cancer can be treated quickly and this increases your chances of recovery and remission."
There are screening guidelines available for breast cancer, cervical cancer, colon cancer and skin cancer. Whilst these can be categorised according to a person's age – women in their 40s and 50s are at higher risk of breast cancer than those in their 20s, for example – although there are always exceptions and genetic factors that need to be taken into consideration. If you have a family history of cancer, then it's advisable to get regular screenings from a young age.
"The risk of contracting cancer varies from person to person," says Dr Jones. "In your 20s, you should do regular cancer screenings if there is a family history of cancer or a medical or physical condition that causes concern. However, by the time you reach your 30s, you should be in the habit of regular self-examination."
Women should examine their breasts regularly and get a pap smear every three years and men should examine their testicles for any changes in shape or size. Everyone should keep track of their moles and have a full body-skin examination with a dermatologist every two years. Always notify your doctor if you notice any changes in mole shape, size or colour. Early detection of melanoma or ovarian cancer can save your life.
As you grow older, the regularity and type of screening you undertake will change. In your 40s and 50s, you should continue to have regular pap smears and a mammogram every one to two years. For colorectal cancer risk, have a colonoscopy every five to ten years and do annual tests to check for signs of cancer. If you smoke or only stopped smoking in the past 15 years, you will need to do an annual CT scan for lung cancer.
"To support your ongoing self-examination and screening, you should also make changes to your diet and lifestyle – it's never too late to adopt a healthy way of living and change your risk profile," says Dr Jones. "There are eight simple steps to cut your cancer risk – don't smoke, limit alcohol consumption, exercise regularly, eat a healthy diet rich in fruits and vegetables, maintain a healthy weight, protect your skin from the sun, protect against sexually transmitted infections and get regular screenings."
Diet plays a powerful role in combatting cancer. It doesn't matter if your past is littered with unhealthy mistakes, what matters is how you change your lifestyle today. Diets that include fruit, vegetables and fibre are an excellent way to lose weight and lower your risk of certain types of cancer. Minimise your intake of processed foods and sugar – these are not just linked to cancer but to a myriad of health issues. Reducing or cutting out your intake of these nutrient-poor, high-sugar and salt foods will also make a huge difference to your quality of life.
"This World Cancer Day you can save your life by just being aware of cancer signs, your risk profile and your lifestyle," concludes Dr Jones. "Eat healthy foods, stay out of the sun, screen regularly and be active – these steps will put you on the path to minimising your risk and living a long, healthy, happy life."